A Day in Khao Sam Roi Yot Thailand
Khao Sam Roi Yot Thailand is one of the many national parks in Thailand and it was created in 1966.
The name in English translates to "the mountain with three hundred peaks" and refers to the limestone mountains along the Gulf of Thailand.
The country has 147 national parks and Khao Sam Roi Yot is the first marine national park in Thailand.
Note: This post may contain affiliate links. If you use some of the links below, I get compensated. This does not cost the viewer anything. Thank you for supporting me 🙂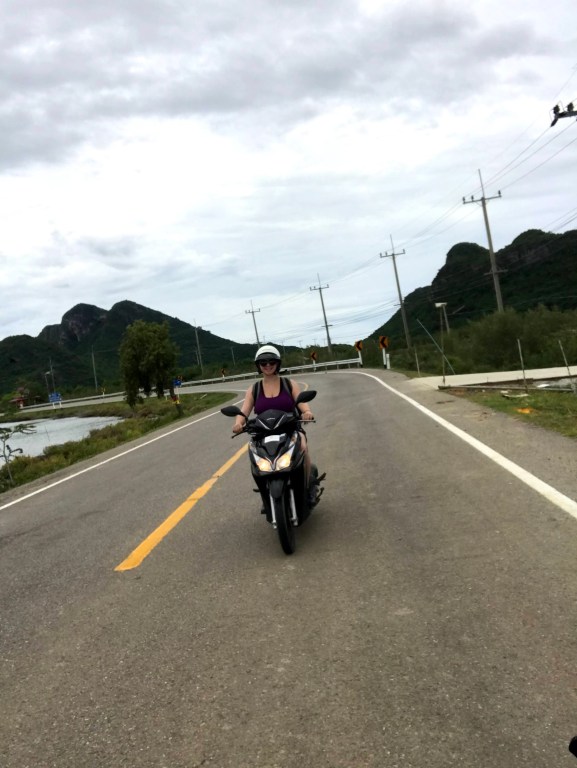 To name a few of the other 146 national parks in Thailand:
Ao Phang-Nga National Park
Erawan National Park
Khao Sok National Park
Kui Buri National Park
Thung Sam Roi Yot is in the northwest part of the park and covers 37% of the park. It is home to about 40 types of fish and 150 types of birds.
The park is close to beaches and coves and it lies on one of the rare wetlands found in Thailand: Thung Sam Roi Yot Wetland. The area is very biodiverse and covers around 98 sq km (38 sq mi) of the country.
If you book a boat tour, you might be able to see dolphins. It is not a guarantee, but sometimes you can spot them along the coast.
The monsoon season is from July to October in Thailand.
However, the rainy season in the park is from May to November. The most rainfall will occur from September to November and the rest of the year is dry.
You will want to plan your Khao Sam Roi Yot National Park itinerary accordingly by choosing which places to see and how much time you want to spend at the park since the park is huge.
You can spend many days at the national park if you prefer. You can also spend one full day and plan accordingly to see all of the sites that you'd like to see. I think spending 1-2 days will be plenty of time.
Once you reach the park, you will be able to get a Khao Sam Roi Yot National Park map and you will purchase your ticket(s) and also grab a map to go. The main visitor center and some of the park attractions are located on the south side of the park.
You can also download the map and all of the sites in the park will have some sort of map before you hike your way up the mountain.
If you decide that you want to take a tour of the park, that is a great option because you will get to see all of the major parts of the national park.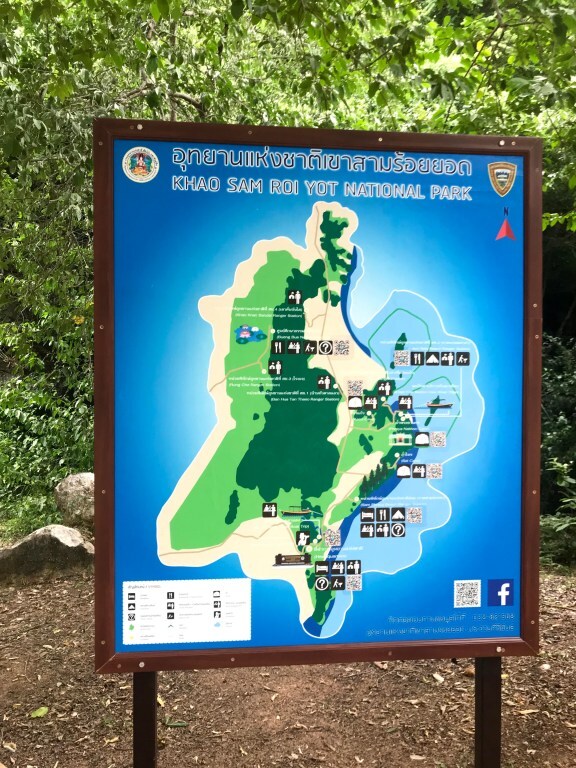 Where is Khao Sam Roi Yot National Park?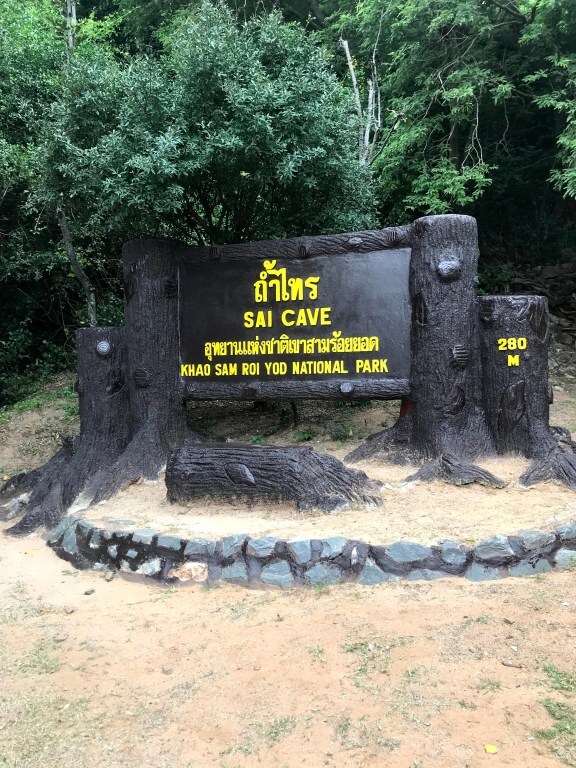 Khao Sam Roi Yot Thailand is in the Prachuap Khiri Khan Province in Thailand and the Kui Buri District. It is heading toward southern Thailand.
The national park is located 45 km (28 mi) from a well-known city, Hua Hin.
Khao Sam Roi Yot National Park From Bangkok
If you are in northern Thailand, you can fly to Bangkok and then take a van or train from there.
You can take the train, a taxi or rent a car, but I think taking a van is the most convenient and affordable option.
If you are driving, I suggest leaving as early as you can to avoid traffic. The drive from Bangkok to Khao Sam Roi Yot will be about 3-4 hours.
If you decide to take the train, you will want to take the southern line of the SRT (State Railway of Thailand). Khao Sam Roi Yot has its own station so you can take the train right from Bangkok to the park. Then you will probably have to get to your accommodation by taxi.
Khao Sam Roi Yot From Mahachai Samut Sakhon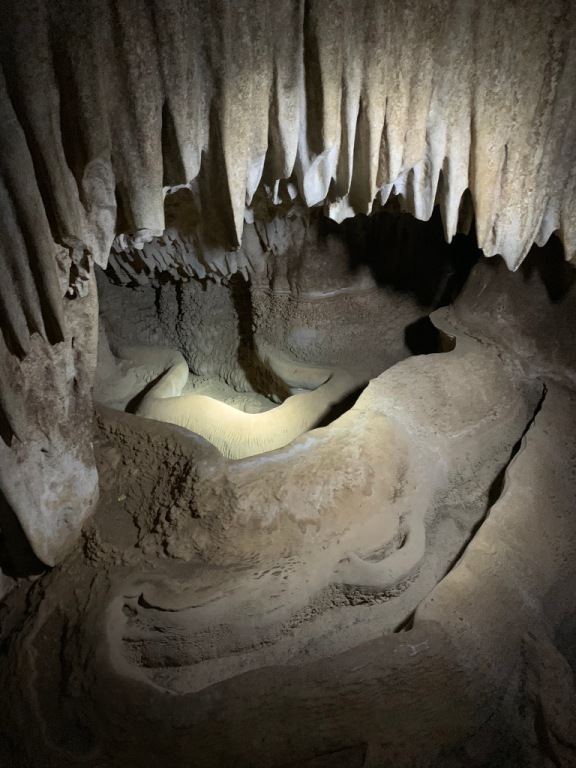 There is a van that goes right from Mahachai Samut Sakhon to the national park. The van stop will be along Rama II Frontage Road close to Mahachai Hospital. The price to go from Mahachai to Khao Sam Roi Yot will be around THB 300 (USD 9).
It will take around three hours to get from the Mahachai van stop to the Khao Sam Roi Yot van stop. From the van stop in Khao Sam Roi Yot, you can take a taxi or motorbike to your accommodation.
How to See the National Park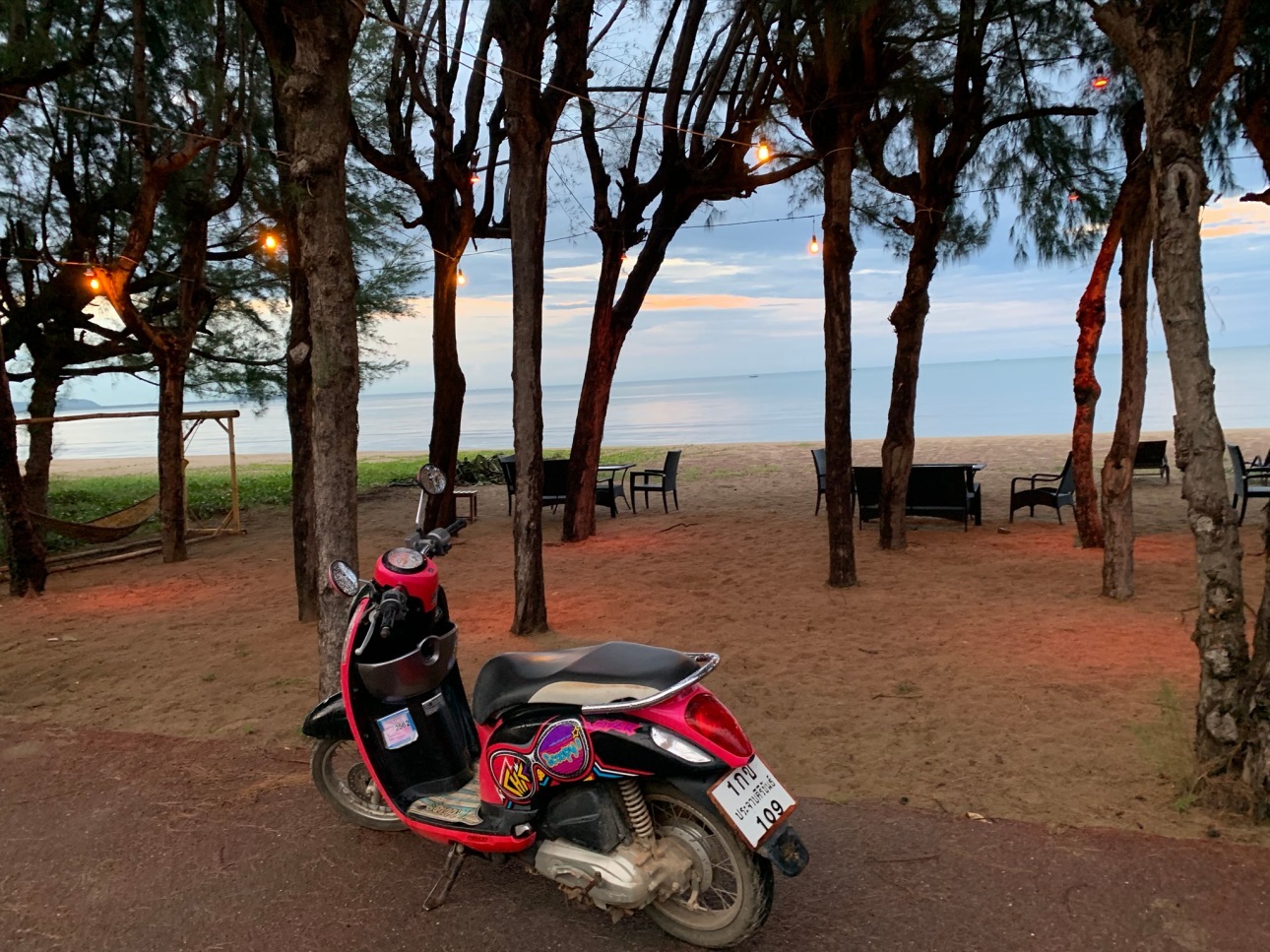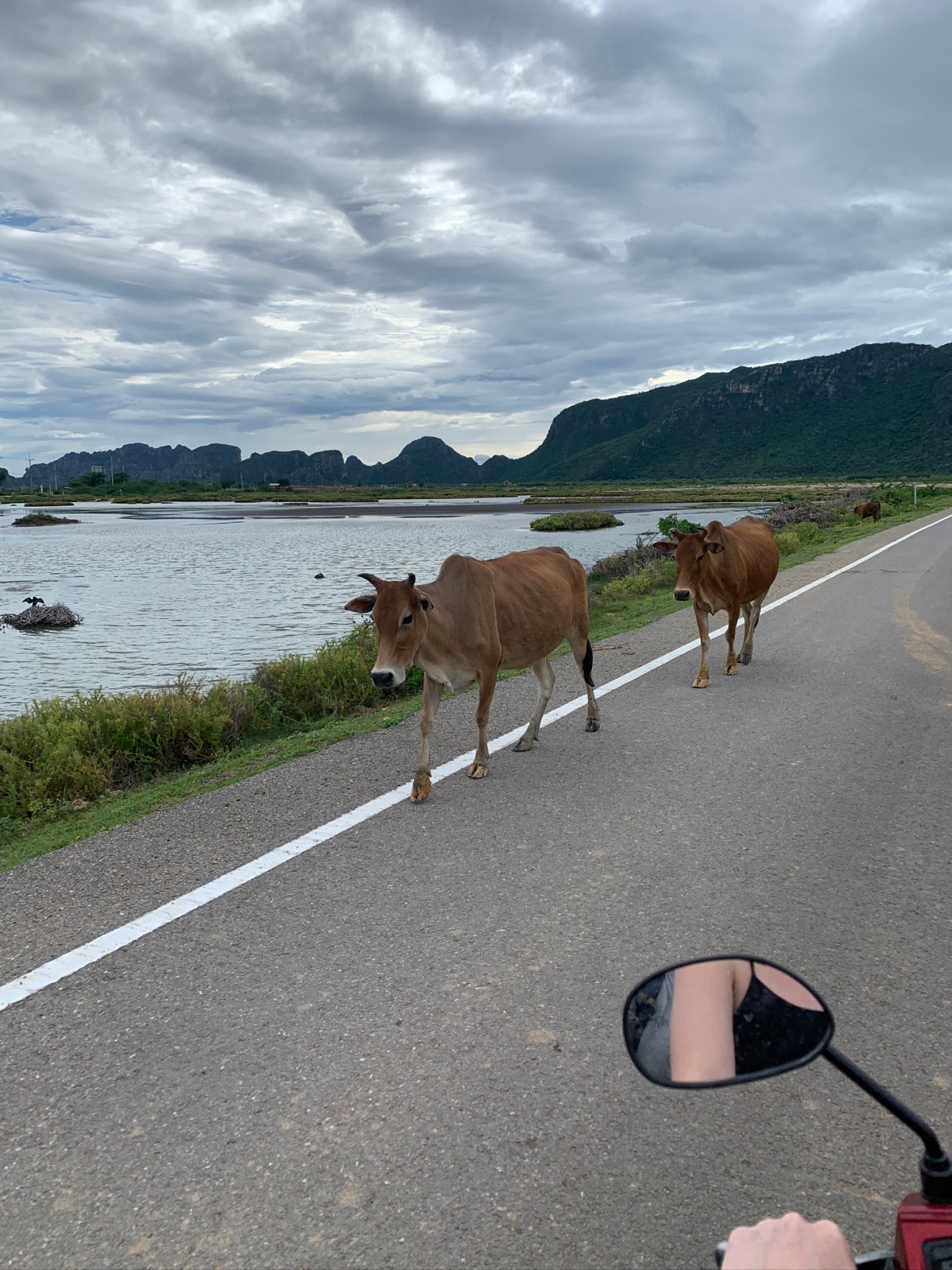 The best way to see the park is to either rent a car or a motorbike. You will not be able to walk around the park and public transportation is not available.
Since there is no public transportation within the park so I suggest you rent a bike or car, or you might be able to find a taxi driver that will bring you around the park for a set fee.
If you are staying at a hotel, you might be able to catch a tour from there.
If you are staying in Hua Hin, you can take a Khao Sam Roi Yot National Park tour. You can spend the day at the national park for less than USD 80.
Where to Stay Near Khao Sam Roi Yot
Stella Resort is a resort right outside of the national park.
You get a complimentary breakfast that includes eggs, toast, and some fruit. Plus you get to see the mountains from afar and that is pretty amazing.
The resort also has a pool, a hot tub, and free wifi.
You can rent a motorbike from the resort for THB 300 (USD 9) a day. It is well worth it because the park is huge. You just have to fill up the tank after you are done which will only cost a few extra Baht. There are also helmets to choose from.
Khao Sam Roi Yot National Park Thailand is less than a 20-minute drive from the resort. And if you rent a bike, you will be able to drive through the park while taking in the impressive views.
Khao Sam Roi Yot National Park Entrance Fee
The entrance fee for foreigners is THB 200 (USD 6) for adults and THB 100 (USD 3) for children.
The park is open from 8 am to 4:30 pm every day but always be sure to check Google first in case the hours change.
What to Do in Khao Sam Roi Yot National Park Thailand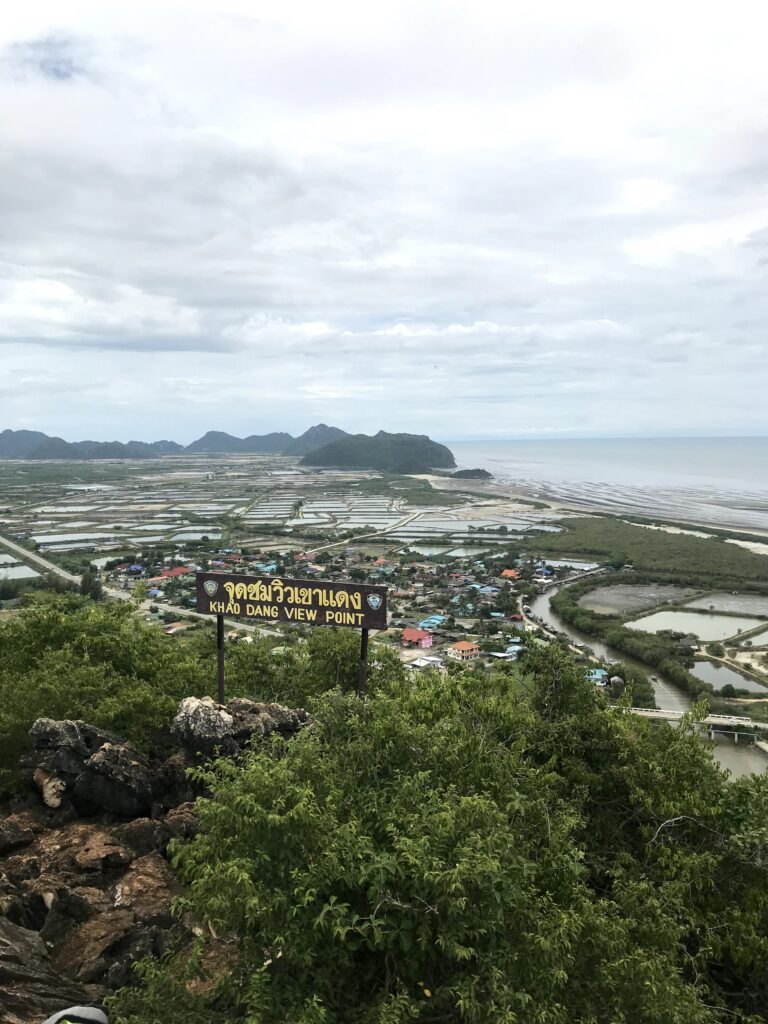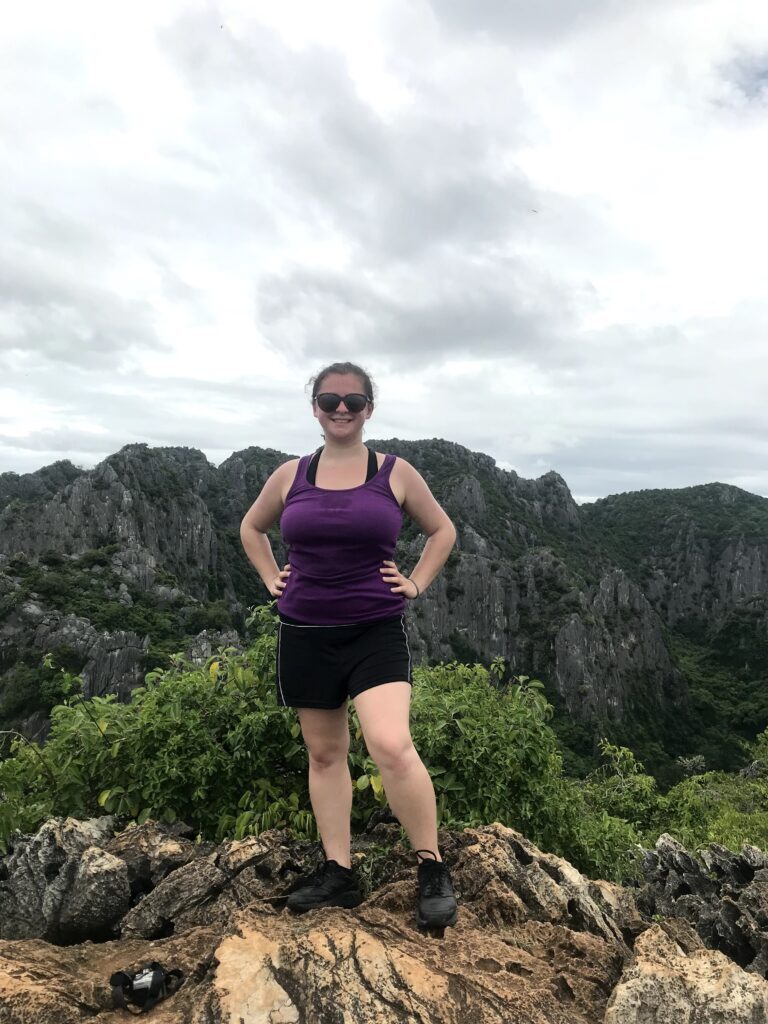 If you are a hiker or backpacker, then this national park will be ideal for you. There are various sites to see inside the park.
During your trip, you can visit:
Beaches
Caves
Freshwater marshes
Limestone islands
Mangrove forests
Swamps
Viewpoints
You can even stay overnight and rent a tent or stay in a bungalow!
If you want to camp, you must do so in a designated area and you can camp at either of the two beaches.
The two Khao Sam Roi Yot beaches are Laem Sala Beach and Sam Phraya Beach.
For staying in a bungalow, you can stay near the headquarters or Laem Sala Beach. You will have to book ahead because there are not many rooms to choose from.
Phraya Nakhon Cave and the Royal Pavilion inside, Kaeo Cave, Khao Daeng Canal, Laem Sala Beach, and Thung Sam Roi Yot are among the popular tourist destinations.
Phraya Nakhon Cave consists of two large sinkholes that were formed when the cave collapsed. Inside the cave, you can see the Royal Pavilion called Phra Thinang Khuha Kharuhat. It was built in 1890 for King Rama V's visits. This cave is the main attraction of the national park.
You can hike your way up to Sai Cave and Khao Daeng Viewpoint in one day. Each hike will take about an hour to go one way.
At 700 meters (2,300 feet) away from the headquarters of the park sits Khao Daeng Viewpoint is 157 meters (515 feet) at its peak. The trail going up the viewpoint is rocky and steep so I recommend bringing a good pair of sneakers. You just have to follow the path and you will reach the top.
The Khao Daeng Viewpoint shows a full 360-degree view of the surrounding mountains. You will want to snap a few photos by the sign and of the mountains.
You might be able to see many wildlife animals as you travel throughout the park; from monkeys to cows.
I was lucky enough to see both wandering freely around the national park.
Where to Eat Near Khao Sam Roi Yot National Park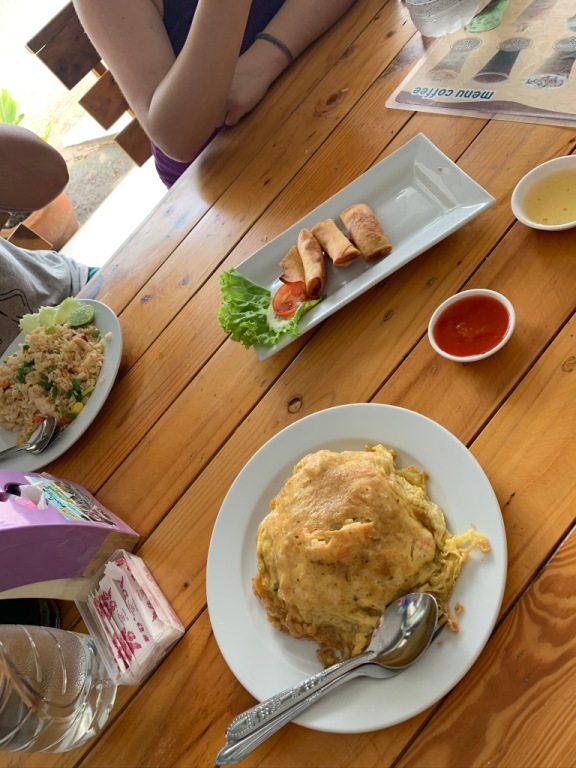 If you are feeling hungry, near Sai Cave and the Beach Side Bungalow, there are a few restaurants, including ร้าน ถํ้าไทร ซีฟู้ด ติดทะเล. You can get some delicious Thai food while fueling up for your next stop.
There are plenty of restaurants to choose from inside and outside of the park. There will be 7/11s close by the park if you want something cheap.
There are tons of other resorts and restaurants along the beach.
Searchlight Bar is along the beach and they have a mini-library there. A guy from the UK owns it so it's cool to see the flags and all of the books that he has. They have good drinks and the food looks delicious.
Fire Grill Steakhouse & Seafood is another great location to eat at. They will have salads, burgers, and other grill foods and outside dining.