Tongbok Traditional Market
Before you plan any day trips from Pyeongtaek, Tongbok Traditional Market can be a day trip that's in Pyeongtaek.
Instead of shopping at the bigger corporations in Pyeongtaek, Seoul, or South Korea in general, you may want to consider getting your food here or at any of the other traditional markets in Korea.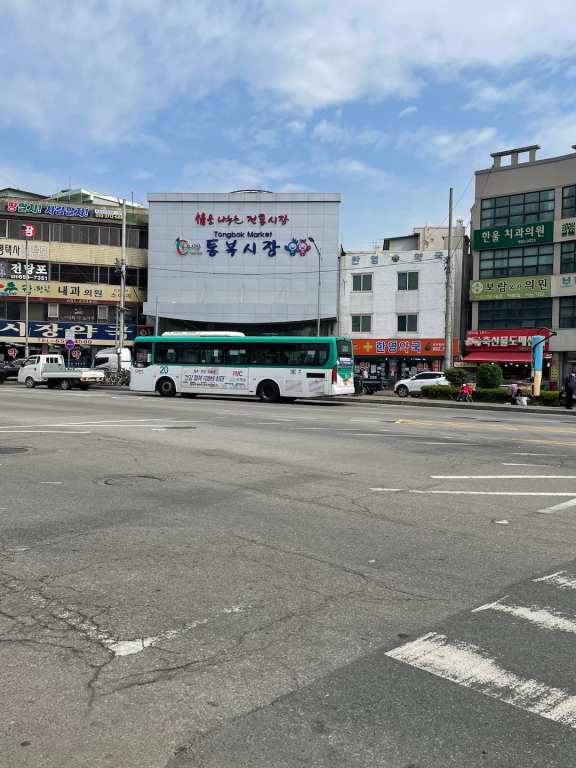 Note: This post may contain affiliate links. If you use some of the links below, I get compensated. This does not cost the viewer anything. Thank you for supporting me 🙂
About Tongbok Market
Tongbok Market is considered one of the traditional markets in South Korea.
Sometimes if you walk through the front entrance you will see fresh fish being dropped off or other types of fresh produce being delivered. It doesn't get any fresher than that.
You can spend about 20 minutes or less inside the market. It is not too big and the stands are nicely set up for convenience and service.
There are exits/entrances heading toward the back of the market as well or you can do a loop and go out the way you went in.
If you don't speak enough Korean, make sure to have Papago or Google Translate on your phone to help make your trip to Tongbok Market (and maybe even the rest of South Korea) easier. Some of the vendors may speak English but you should always be prepared.
Click here to see the most popular apps in Korea.
Where is the Market?
It is located right near AK Plaza Pyeongtaek. It is actually only one stop away from the plaza so you don't have to travel far if you are coming from there.
This market is also fairly close to Camp Humphreys, which is the largest US military base outside of the US.
Since the market is near the military base, you might get asked if you are part of the military.
Tongbok Traditional Market Hours
It is open every day from around 9 am until 8 pm. Be warned that they may run out of certain food toward the end of the night.
During the week, there won't be too many people. However, on the weekends, especially during the nice weather, expect it to be packed. So if you can, I suggest going on one of the days during the week to avoid the crowd.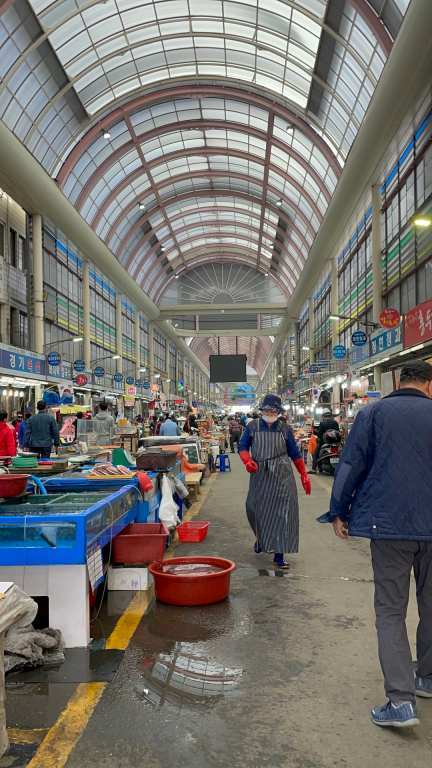 How to Get There
You can just put in Tongbok Traditional Market in one of your navigation apps and it should pop up. There are bus stops right outside the market. There are also even more vendors surrounding the market so be sure to look at those setups as well.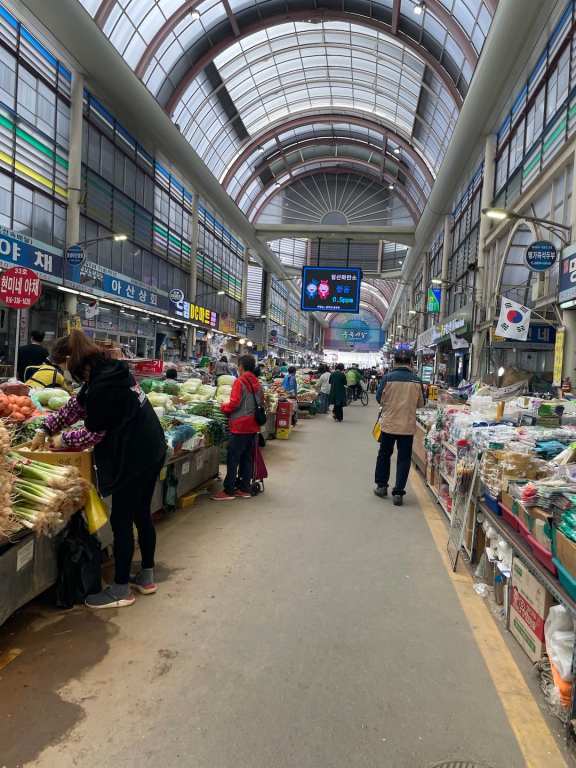 What Does Tongbok Market Have?
Tongbok Market has something for everyone. It has a little bit of everything you need to check some items off of your shopping list. There are numerous vendors so take a gander around the market to see which one you like best.
At the market they sell:
Cleaning supplies
Clothes
Donuts
Fish
Fresh produce
Meat
There's much more inside that you will find! There are also some restaurants inside the market where you can sit or you can get your food to go.
If you want something sweet, I suggest getting a donut at the "Pride of Tongbok Market" It is toward the back left of the market. The donuts sometimes have sweet potatoes or red beans inside.
You can find fresh fruit for half the price of the fruit at an emart and even Hanaro Mart. You will also be supporting smaller businesses, which is always great.
Depending on what you get, the fruit can usually range from KRW 2,500-6,000 (USD 2-5). And don't forget to bring your reusable bag with you!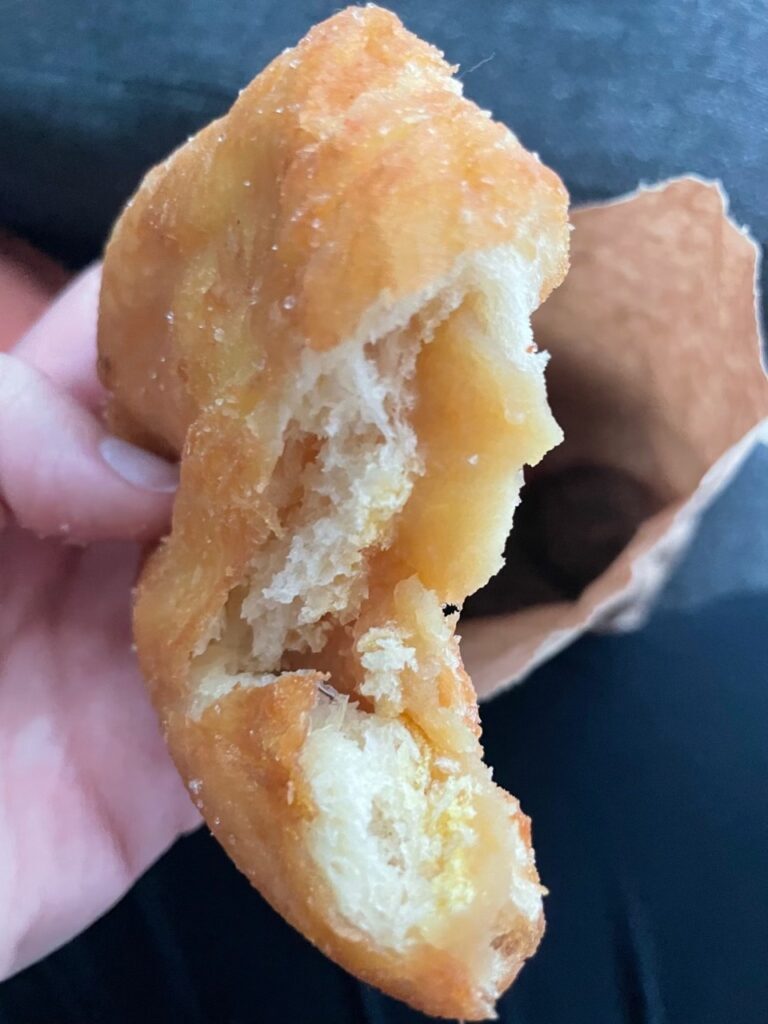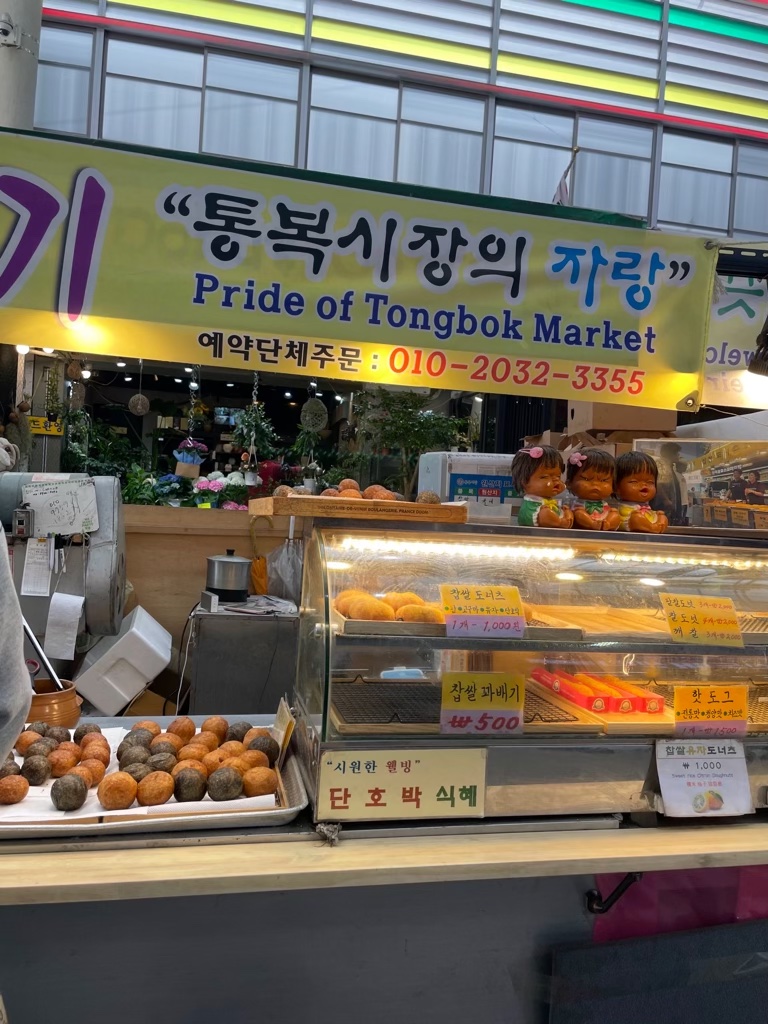 Other Information About Pyeongtaek
If you are living or visiting Pyeongtaek and have Facebook, check out the group Pyeongtaek Food and Fun. The people in that group share good restaurants and other Pyeongtaek events and activities to do!
You can also check out The South of Seoul Blog for more things to do in the area and around Korea!
Check out a few of my TikToks: Tongbok Market #1 & Tongbok Market #2