How to Get to Maeklong Railway Market
If you're going to Thailand, one thing you must see is the famous Maeklong Railway Market that is close to Bangkok.
But if you're wondering how to get to Maeklong Railway Market, have no fear, I will help!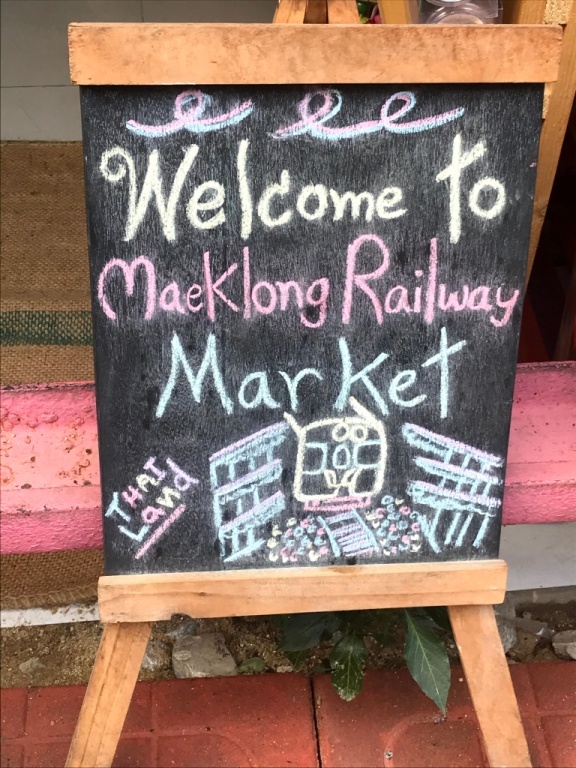 Note: This post may contain affiliate links. If you use some of the links below, I get compensated. This does not cost the viewer anything. Thank you for supporting me 🙂
If you're staying in Bangkok, you can take this easy day trip. The views at this railway (and going there if you take the train) will amaze you and make you appreciate Thailand that much more!
Getting to the market can take only a few hours (if you take the train) and it is one of Thailand's biggest attractions among tourists. Once you get there, you will see why.
Travel Tips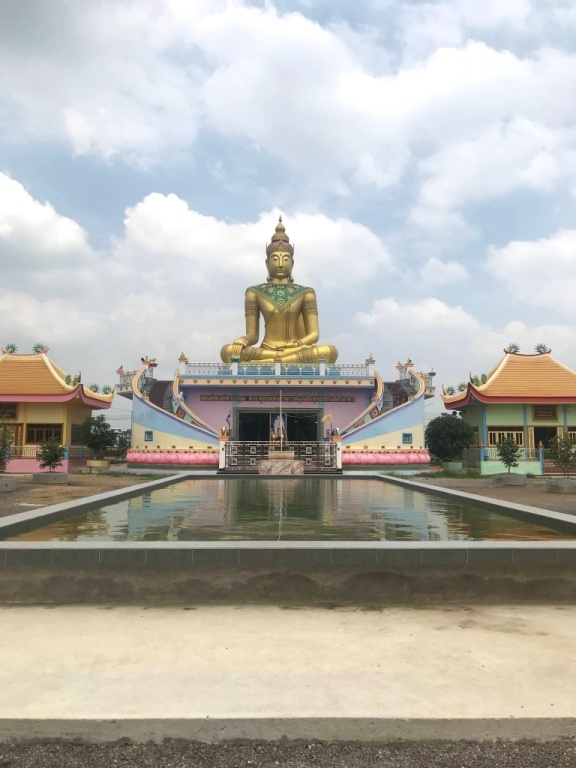 These tips can help on your journey to Maeklong Market and to other spots in Thailand.
Take out cash before you go to the market. There will be several ATMs in Bangkok but don't forget that there might be foreign fees added to your withdrawal.
English is not widely spoken. It will most likely be spoken in tourist spots, such as Bangkok, Chiang Mai, and Phi Phi, but in rural parts of the country, expect to use your translating app or speak some Thai.
Try some street food. You can buy local food for as little as THB 30 (USD 1). And trust me, you will not regret it. It's cheap and mouthwatering, and you're supporting a small business!
If you decide to eat street food, make sure it is cooked or can be peeled. And I would recommend asking for no ice in your drink. Tap water is treated differently throughout Thailand. Some places will have purified water, while others won't. So it's better to be safe and use your reusable water bottle. Of course, you can always buy a plastic water bottle, but let's try to save the environment!
If you decide to take a taxi to the market, watch out for scammers. Taxi drivers and locals can spot a tourist from far far away and you don't want to throw money away during your travels. You can use the app Grab to compare prices between your taxi driver and the app to make sure that you are paying a reasonable price. Usually, if you show the taxi driver the app, they will agree to take you to your destination at that price.
Pack some heavy-duty sunblock. Blue Lizard is great for Thailand's heat and Supergoop is also another brand that I love.
About Maeklong Market
Although it's sometimes called the Bangkok Railway Market, it is not located in the capital but in a nearby province, Samut Songkhram. It is one of the largest fresh seafood markets in all of Thailand.
The Maeklong Railway Market, also called Hoop Rom Market (umbrella-closing) and Mae Klong Railway, spreads over 100 meters (328 feet) in length and was built in 1904.
It runs through Wongwian Yai, Bangkok, and Samut Songkhram in the center of the country on the Gulf of Thailand.
The vendors are attached to or close to the railway, so they have to rush to move their umbrellas or canvas to make room for the train, which is why it's sometimes called Siang Tai or life-risking market.
The opening and closing of the canvases happen 8 times per day during the market's hours of 6 am to 6 pm.
How to Get to Maeklong Railway Market From Bangkok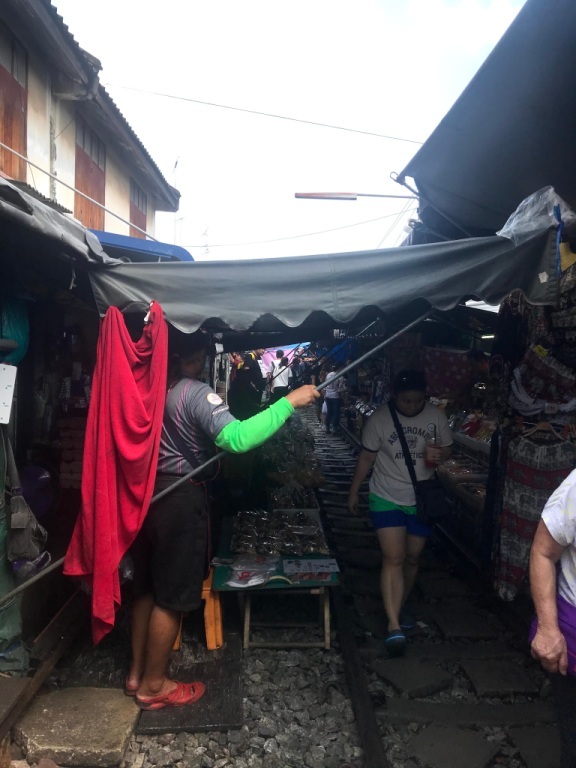 There are a few ways to get to Maeklong Railway from Bangkok. If you are staying in Bangkok, you have probably realized how large the city is so it all depends on where you are staying there. But thanks to the taxis, minivans, trains, and BTS Skytrain, Thailand has made it easy for traveling around Bangkok and even to other parts of the country.
You can also download the app Next Station: Bangkok.
Check out other apps to download for Thailand.
If you drive or take a taxi it will take about an hour to get to the market. A taxi should cost around USD 20 going one way.
If you take a van, this will be the second cheapest option and it will have AC. It can take about an hour and a half to get to Maeklong due to the frequent stops and traffic. Taking a van should cost somewhere between THB 70 to 80 (USD 2-2.30).
There will be no AC on the trains, but if you're lucky enough you might be able to sit near a functioning fan.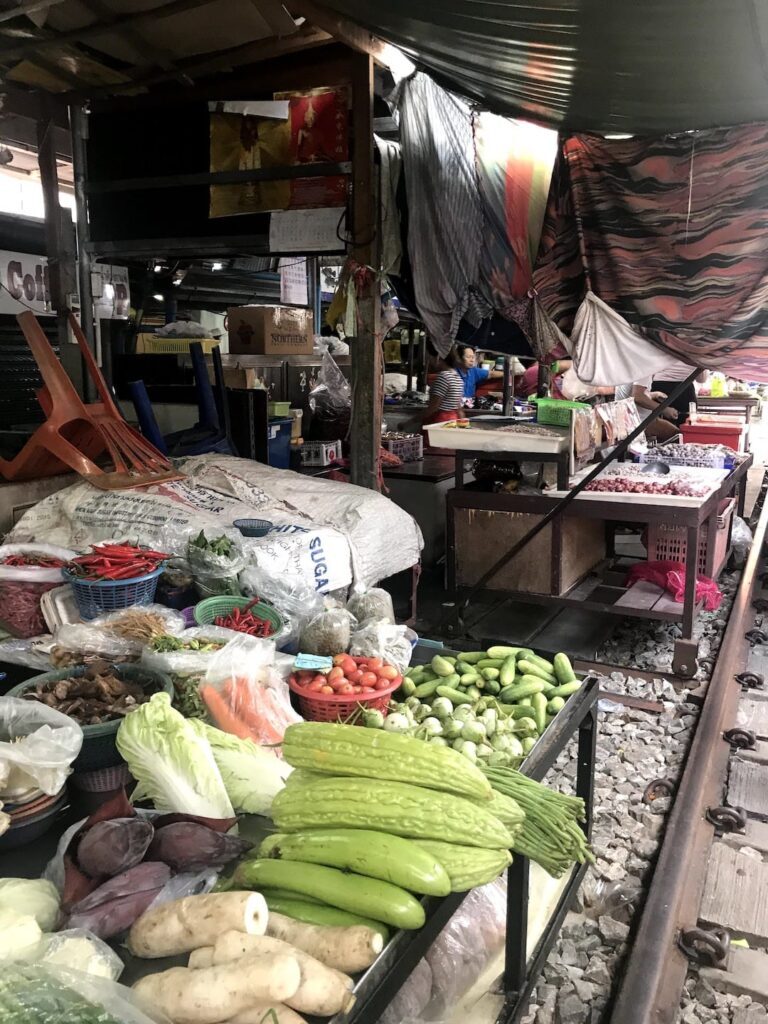 By Van
There are numerous van stops in Bangkok. So depending on where you are you can open Google Maps and the app will guide you to the closest one.
One of the more popular van stops is Victory Monument. You can get there by the BTS Skytrain. Victory Monument has its own BTS station stop so it is pretty straightforward.
Once you get to Victory Monument, you will want to buy your ticket to Maeklong. Then, you can get into a van and be on your way to the market. Just be mindful that the vans leave when they are full so there is not really a set time, although they might have some information hanging up nearby, it is just an estimate.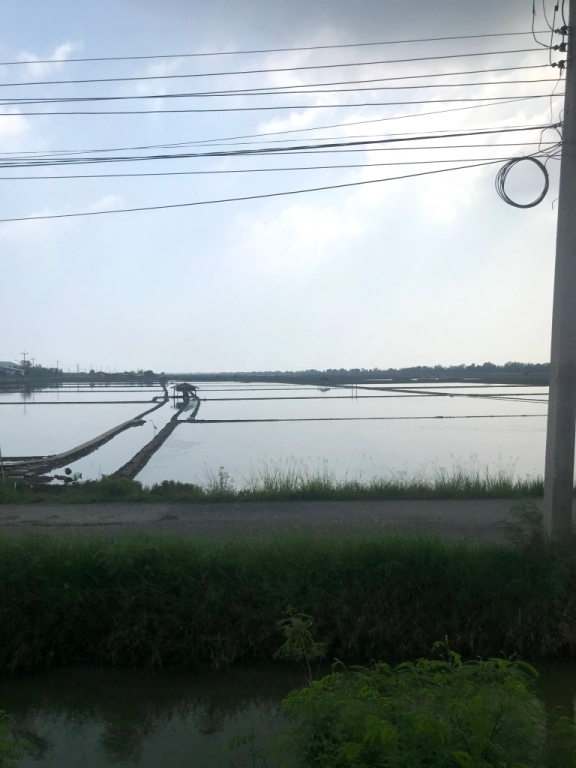 By Train
If you are looking for the cheapest way to travel to the market, this will be your best option.
You can check the train times and updates on their website.
You will want to get to the Wongwian Yai Railway Station, which is on the Silom Line. The walk from Wongwian Yai on the BTS to Wongwian Yai Railway Station is less than 10 minutes walking and there will be a sign and map once you step off the BTS.
At Wongwian Yai Railway Station, you will purchase a train ticket heading to Mahachai, also known as Maha Chai. The ticket will cost THB 10 (USD .30) per person. It will take around an hour to get from Bangkok to the station in Mahachai.
Once you get to Mahachai, Samut Sakhon, you will have to walk to the pier which will be less than 5 minutes from the train. You walk out of the train station and take a right and then a left and you will see the pier. You can also take a walk around the Mahachai Market to see some local food and fresh seafood.
From the Mahachai Pier, you will take a ferry to Tha Chalom Pier for less than THB 10 and it will take less than 5 minutes.
Tha Chalom is a tiny and quiet town in Samut Sakhon. You can either drive or take the ferry to get there from Mahachai.
Once you get to Tha Chalom, you will want to get to the Ban Laem train stop. It is only about a 10-minute walk from the ferry stop to the train station, you just have to take a right coming out of the station and you will come across the train stop.
You can see some Tha Chalon street art and Wat Laem Suwannaram on your way to the train.
There are multiple trains that go to and from Maeklong so if you plan it out right, you can spend a few hours there. Maeklong is the last stop so you don't need to keep your eyes peeled for the sign if you don't want to.
Check out other things to do in Mahachai.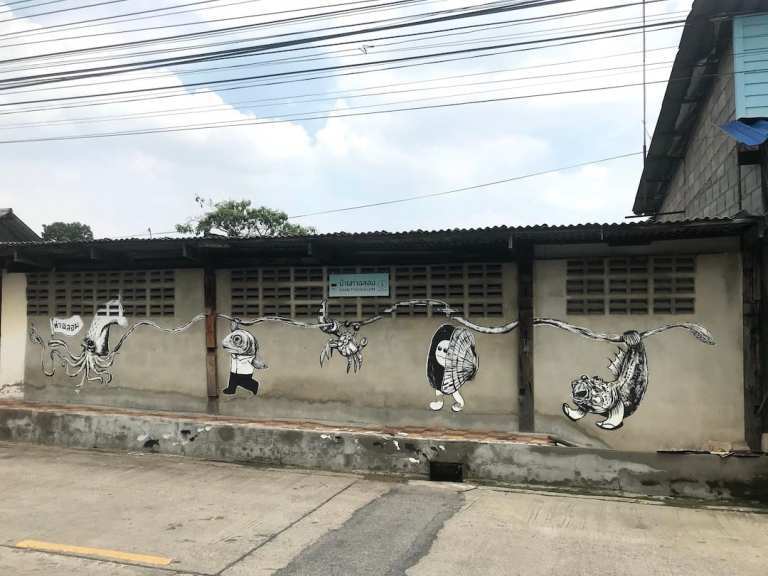 On the Train
It takes about an hour to get to Maeklong from Ban Laem in Tha Chalom. Take in the views as the train screeches its way through central Thailand.
You will probably see many tourists that are doing the same thing as you.
If you head to the market at the right time of year, you will be lucky enough to see the salt farms. The best time to see the salt farms is between January and April. The seawater is pumped into the fields and then once the water has evaporated, the salt layers are left behind and are collected by the farmers.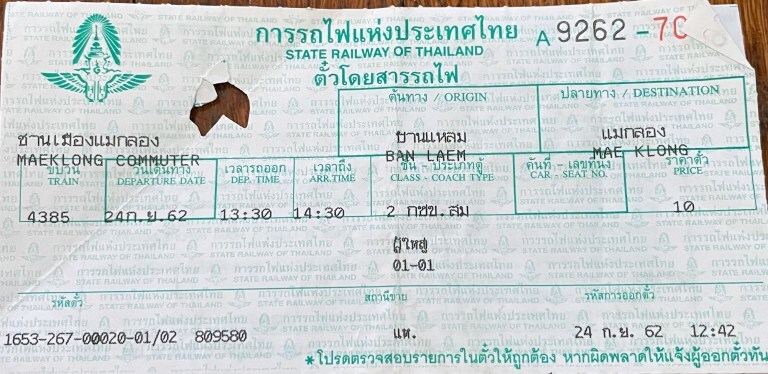 Take a Tour
Book a Maeklong Railway Market Tour if you're looking for the easiest way to get to the market.
Depending on the tour you choose, some might include a visit to either Damnoen Saduak Floating Market or Amphawa Floating Market. You will definitely want to see at least one floating market during your time in Thailand!
When You Arrive
When you arrive at the Umbrella Pulldown Market, called Talat Rom Hup in Thai, you will see the vendors and merchants pull back their umbrellas and products away from the railway so the train can squeeze through. You will hear the conductor honk the horn as you approach to warn people to move out of the way.
You can see people recording videos and you can literally touch the market from the train. Except don't do that. You will want to keep your hands inside the train for safety!
Wave to the people that are taking videos and pictures from inside the train.
Grab some fresh coconut water to stay hydrated and take a gander at what the vendors are selling.
Most of what you will find at the market includes fresh seafood, dried seafood, vegetables, fruits, seeds, and meat, making it one of the best railways Thailand has to offer. You can buy some small souvenirs such as clothes and earrings, or buy a handmade fan to cool yourself off in the hot Thailand heat.